Indian food is one of the spiciest cuisines the world boasts about. But that is not all the country has in stock for the world. A few alcoholic drinks in America can trace their roots back to India.
One such drink is Taj Mahal Beer. It is a lager beer and does not disappoint in flavor, and is sought after too.
In this Taj Mahal Beer review, we would look at the history, ingredients, and everything there is to know about Taj Mahal Beer.
Let's get started!
Value for Price

Mixability

Sippability
Quick Facts
| Name: | Taj Mahal Beer |
| --- | --- |
| Brand: | Taj Mahal |
| Country: | India |
| Beer Style: | American-Style Lager |
| Beer Type: | Lager |
| ABV: | 4.5% |
Brand History
From 1630 to 1648, the Shan Jahan of Agra in India erected a monument for his beautiful wife. He called the building 'Taj Mahal,' meaning 'The Best of Buildings.' Without mincing words, the edifice matched the name because it stood tall like a sacred architecture when sighted from far or near.
Even though Shan Jahan intended the edifice as a home for his wife, it became a mausoleum instead. That was because the wife died a year after the commencement of the building construction. Today, the story of the Taj Mahal and its splendor stands as a reminder that the best of hopes could be dashed.
However, it did not end there because the beer you are holding in your hand obtained its name from there. The bottle label of the Taj Mahal portrays the splendor of the edifice. It was slow-brewed from the finest malts, imported hops, grains, yeast, and water. Besides, it is deliciously refreshing, with its bottle filled with 650 ml. For its namesake, Taj Mahal Beer is a monumental drink among beers known in Indian restaurants and shops.
That is not all about the beer. It found its way to America in 1983, and customers liked its crisp, clean, and refreshing flavor. Today, it has carved a niche with a sufficient market share. It has not only a good market share, but it has also attained the position of being the greatest-selling Indian beer in the United States.
Over 500 restaurants across the country serve their customers with this premium beer. New Zealand, France, Japan, and Norway have found delight in Taj Mahal Beer.
Taj Mahal Beer Review
This drink is a connoisseur's delight, with malt-nuanced flavor and a pleasant bitterness that subtly counters it. The finish is dry and sweet, so it is a premium beer. To know more about Taj Mahal Beer, check out the flavor profile:
Taste: Taj Mahal Beer is full-bodied with a soft taste of malt and toasted cereal grains. This is followed by hints of sweetness, contrasting the bitterness and cereal grains. Besides, the spicy hops are evident on the palate.
Nose: As you raise the glass, you will get a unique rounded, and refreshing malt aroma.
Finish: Taj Mahal Beer ends with a light and crisp lager finish.
Appearance: It is an Indian-American-style lager with a pale yellow color.
Calorie: The calorie content in one bottle of 22 oz is 175.
Ingredients: Taj Mahal has barley, hops, malt, and adjuncts.
Alcohol content: 4.5% ABV. This is the average alcohol by volume (ABV) of a pale lager and is not considered a high alcohol content.
Price: The average cost of Taj Mahal Beer is $6. It may be cheaper, but it is still a good bargain.
Also Read: Ciroc Limited Edition Pomegranate Vodka Review
Should you drink Taj Mahal Beer?
Undoubtedly, beer is the most popular alcoholic drink, offering a crisp, bitter taste. It pairs well with most dishes and is usually a go-to drink when hooking up with friends. Taj Mahal, as a beer, contains numerous benefits if consumed in moderation. Check out some of them here:
Enhance creativity: After a pint or two of Taj Mahal Beer, you may have crazy ideas. This does not mean the beer will make you smarter, but it will be right there to help you put the pieces together.
Anti-cancer properties: The hop in the beer is loaded with flavonoids, which helps prevent cancer. However, ensure not to take it in excess.
Healthy skin: The beer contains vitamins that are responsible for skin regeneration. So, drinking a lot of Taj Mahal Beer makes your skin soft and smooth.
Healthy kidney: Studies show that beer is gentler on the kidney than any other alcoholic drink. Drinking it occasionally lowers the risk of kidney stones.
Reduces blood pressure: Moderate consumption of the Taj Mahal helps lower blood pressure. Thus, beer drinkers are less likely to have a high blood pressure than other alcoholic drinks.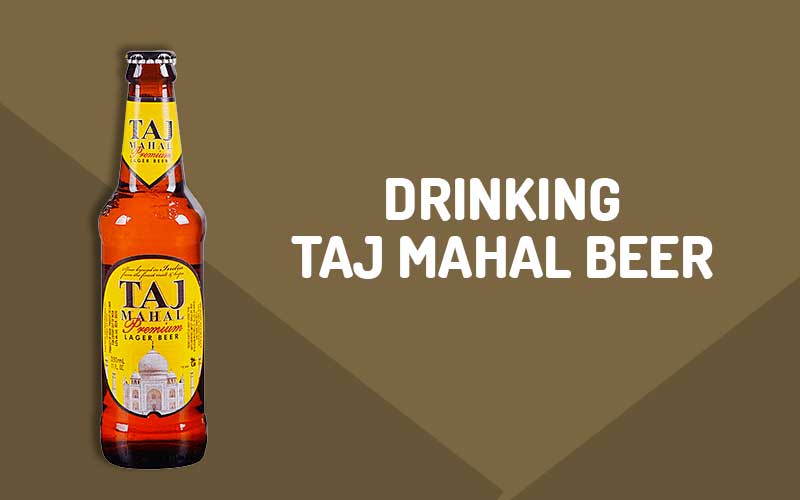 How to Drink Taj Mahal Beer
Taj Mahal Beer is best served chilled. Besides, it would be best to consume it days after opening it. Lagers work better if obtained straight from the fridge, especially on warm summer days. Their ideal serving temperature is 1 – 4 degrees Celsius.
Perfect Pairings for Taj Mahal Beer
You are not alone if you are curious about the best meal to pair with your chilled Taj Mahal Beer. In the last decade, American restaurateurs and chefs have discovered the incredible power of beers with all kinds of food. If you are looking for the perfect food to serve with your delicious beer, check out the following:
Cheese, pizzas, and sandwiches: beer is one of the best matches for these food options. The carbonation in Taj Mahal Beer creates a lighter tartness, lifting the fats in the food. Whether it is a straight-up dish or paired with other meals, you will find the flavor blend exciting.
Pasta, chicken, and fish: Even though the rule of thumb around chicken and fish is that you should not overburden it with beer. However, being a pale lager makes this American-Indian beer a lighter pair with the food. With pasta, almost anything goes.
Fried food and frites: These options have light flavor profiles and can pair well with the Taj Mahal. The beer washes the palate without washing away the salty flavors while eliciting the taste.
Steaks, roasted meats, and burgers: The malt in the beers can balance with meats. The pair makes a bold and savory flavor, a fantastic way to celebrate your palate.
Spicy: Have you tried to pair Mexican and Indian food with delicious beer before? It takes you to the part of heaven where only enjoyment is experienced. You won't regret your decision whether you choose fajitas, chimichangas, sushi rolls, sashimi, or tacos.
Desserts: Chocolate flavors are great pairs with malted beers. Most people don't love the idea of beer and desserts, but when you try them, you won't have any regrets. A new world of flavor awaits you once you combine Taj Mahl with your dessert.
Popular Related drinks
Aside from Taj Mahal Beer, you will find other Indian beers fascinating and light on the palate. Here are some of them to give a chance:
Haywards: Launched in 1974 as a branch of the famed Hawards liquor, this beer brand is a must-taste. It contains 7 percent alcohol, is medium-bodied, and has a bold taste. It is primarily consumed in India, alluring its fans with unforgettable flavor. Finally, the flavor mixes rich malt and a hint of sweetness.
Godfather: This is a top beer that has existed since 1961 and comes in three variations. Strong (7.5% ABV), Lager (5% ABV), and Lite (4.5% ABV) are the variations, each with a unique flavor profile. Godfather's rich flavor is a result of its longer brewing cycle. The cycle lasts 25 days, as against others that last between 12 and 15 days.
Kingfisher: Among the top brands of Indian beers, this one stands out. It is known as the 'King of Good Times,' with a market share of 41%. The name, Kingfisher, has been linked with fashion, sports, beauty, and airline because it does not disappoint. In a bid to target the younger generation, the company launched Kingfisher Blue, which was a huge success.
Other beers of Indian origin you may want to taste include Knock Out, Kalyani Black Label, Kings, Royal Challenge, and Bullet.
Frequently Asked Questions – Taj Mahal Beer
How is Taj Mahal Beer brewed?
This drink is a light beer that uses hops like 'Saaz' and 'Tradition' to give it a distinct herbal flavor. It is brewed using malt, mineral water, hops, grains, and yeast, leading to a crisp and lingering finish.
Which company owns Taj Mahal Beer?
This light-lager beer is a product of an Indian conglomerate company, the United Brewery. For those who love refreshing beer, every taste of this premium rink gives a refreshing feel.
Can you enjoy the Taj Mahal with spicy food?
Since the Taj Mahal is a light lager beer, it is perfect with spicy food and will not overshadow the flavor. While the spicy meal hits hard on the palate, this pale-colored beer cools the effect down if taken chilled. Moreover, when this drink is cold, the malt and other flavors combine to give a unique taste.
Also Read: Ciroc Summer Citrus Vodka Review
Cheers!
As you look into your glass, the Taj Mahal is that beer you are about to make a favorite. It is made with the finest ingredients, making it a premium beer.
Everything about it is excellent, from the unique history to the complex flavor. Moreover, it is sold at an affordable price, so you don't have a reason not to give it a sip.