Tequila has passed through stages of acceptance before arriving at its current standard. It is one of the ways to unwind and share exciting moments with friends and family.
People have used it in many ways for centuries to enjoy themselves; no matter how you drink it, you will find it exciting. One fantastic thing about this spirit is that it enhances reputation, and the feeling is better experienced than imagined.
In this review, we would look at everything there is to know about Jose Cuervo Tradicional Reposado.
Let's get started!
Value for Price

Mixability

Sippability
⇒ Fun Facts ⇐
| Name: | Jose Cuervo Tradicional Reposado |
| --- | --- |
| Brand: | Jose Cuervo |
| Country: | Mexico |
| Spirit Style: | Reposado |
| Spirit Type: | Tequila |
| ABV: | 40% |
Brand History
Jose Cuervo, the best-selling tequila brand, technically sells a fifth of the world-consumed tequila. It sells around 3.5 million cases annually in the US as of 2012. This family-owned tequila producer started as far back as 1758, when the ancestor, Don Jose Antonio de Cuervo, received a land grant by King Ferdinand of Spain in Tequila Jalisco.
The family established the Taberna de Cuervo, the farm where they cultivated blue agave plants, which would be distilled into tequila. In 1795, their first Vino Mezcal de Tequila de Jose Cuervo was produced.
In addition, King Carlos IV of Spain authorized the family to produce tequila commercially after Prohibition under King Carlos III. This was how the tequila industry was birthed. By 1880, they were already bottling and distributing tequila.
They were the first to bottle tequila because other tequila producers used barrels. That time tequila was known as 'mezcal de tequila,' which was shortened to 'tequila' in 1893. Cuervo sold its first bottled tequila in 1906.
After the death of Don Jose, the brand was named Jose Cuervo Tequila, and it kept changing headship by family members. Currently, Juan Beckmann Gallardo has become the sixth-generation leader of the company. In 2013, Proximi Spirits became the sole distributor of Jose Cuervo Tequila, taking over from the popular Diageo. This was after Diageo failed to purchase the business, as agreed.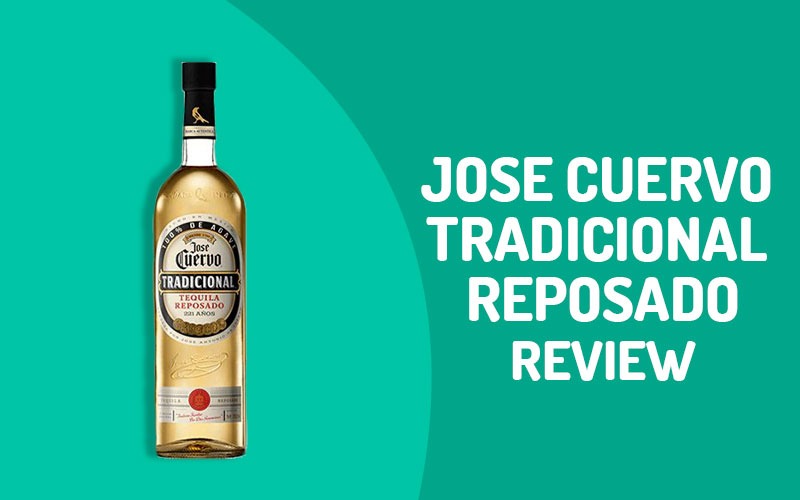 Jose Cuervo Tradicional Reposado Review
This tequila is made with 100% blue agave and aged for at least two months in white oak barrels. The aging gives it a smooth and delicate complexity. The flavors of Jose Cuervo Tradicional Reposado include roasted pineapple, vanilla, cooked agave, and spices. Here, we will look at all you need to know about the content you are about to sip:
Category: Rested tequila is legally approved to be aged for at least two months. Better brands can spend as long as three to nine months adding color and character to the liquid. It can be 100 percent from blue agave or mixto. In Mexico, reposado tequilas are the best-selling. They are best sipped than taken in shots to enable you to identify the flavor notes.
Color: Jose Cuervo appears in a tall, slender decanter, appropriately sealed with a good synthetic cork closure. The labeling is professionally done and looks fitting. It has a pale straw color resulting from the period of resting. But if it had been made darker, it would have been more readily appreciated.
Nose: This drink scintillates the nose with aromas of agave, cocoa, alcohol, and black pepper.
Taste: Upon sipping, it gives a warm, black peppery sensation, disappearing quickly into agave and slight oak flavors.
Finish: The finish is lingering with oak, cinnamon notes, and a nice warmth.
Alcohol content: Like any other tequila, Jose Cuervo tequila is bottled at 40% ABV in a 750 ml decanter.
Price: The average cost of this spirit is $20, which is fair for its tequila category.
Also Read: Truly Hard Seltzer Poolside Variety Pack Review 
Pros and Cons
Looking at this tequila, you will understand that it is one of the best within its price range. However, you may have your reservations about it. Here is the most exciting part; we have helped you figure out what you may think about it. So, let's go!
Pros
Smooth and sippable: It goes down the throat quickly and does not burn, which makes it acceptable. You can sip it neat without feeling unusual in the throat.
Price: Jose Cuervo Tradicional Reposado is cheap, yet is of good quality. You may not classify it as premium tequila, but it makes a great bargain at $20.
Staple drink: In Mexico, Jose Cuervo Reposado is regular tequila that an average household boasts. The other versions of tequila are not easily accpetable the way this reposado does. Additionally, the price may have contributed to it. But trust could be one reason for its popularity because it is one of the oldest brands.
Cons
Long-necked bottle: The bottle is tall and slender, which most brands use nowadays. However, it could be a handful, trying to fit the bottle into a small shelf. Hence, you can only place it at the top; that could be precarious. It would have scored higher if the bottle had been shorter and more balanced.
Lowland tequila: Although the brand sources its tequila from 100% blue agave, it is likely to source its agave from the Jalisco Lowlands, where it is located. The flavor profile says a lot about it. The spice is muted somewhat, which is the opposite of tequilas produced from Jalisco Highlands' agave plants.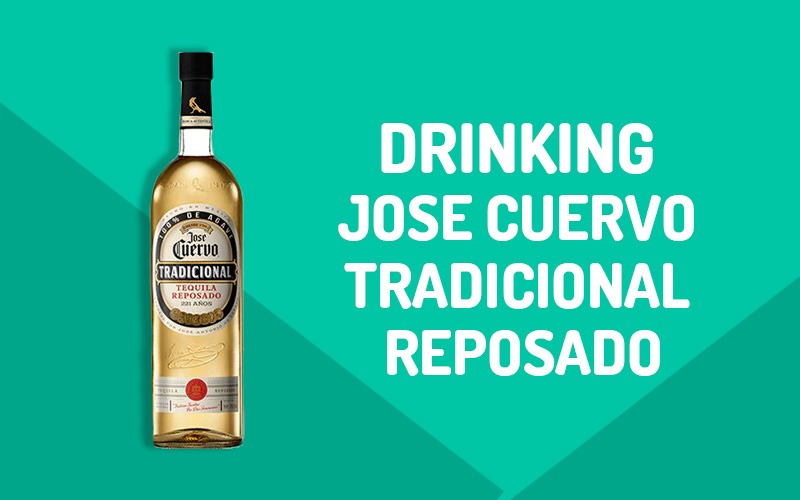 How is Jose Cuervo Tradicional Reposado Best Served?
While this spirit does not have the depth and complexities of the finest reposados, it has some flavorful notes and mixes well in other drinks. Mix it with Coke to produce a classic Batanga or grapefruit juice for a mouthwatering Paloma. It also mixes smoothly with pineapple juices.
Aside from that, you can sip it neat or on the rocks. It is excellent either way.
This spirit will provide additional choices to suit your preferences and enhance your drinking experience.
Perfect Pairings for Jose Cuervo Tradicional Reposado
Tequila has come a long way and has gone beyond pairing it with only Mexican dishes. Their complex flavors allow them to complement diverse food backgrounds without anyone overwhelming the other. Try to pair your Jose Cuervo Tradicional Tequila with the following foods:
Bagnet rice bowl: Thrice cooked, this meal is crispy pork belly served over seasoned rice with pickles and toppings. Its savory flavor makes a grand entrance on the palate and is best received with a sip of this tequila.
Fried chicken sisig: Before cooking, the chicken is marinated in calamansi, soy sauce, and onions, which brings out its delicious taste. Match it with this reposado from Jose Cuervo, and you will enjoy the flavor.
Fish sauce caramel chicken wings: This will taste sweeter, spicier, and earthier if paired with a Tradicional Reposado and a splash of tonic.
Popular Related Drinks
Aside from Jose Cuervo, there are different reposado tequila with delicious flavors and rightly rested. If you are looking for alternatives, consider 1800 Reposado. It provides related flavor notes and is produced at the same distillery as Jose Cuervo. Another option is Hornitos Reposado or Sauza 100 Anos Reposado. They are great for sipping and cocktails.
1800 Reposado: It is aged six months in American and French oak barrels. The aroma is bright, peppery, herby, and lemony. It has the characteristics of a reposado with lemon and lime notes. 1800 Reposado first displays a creamy and soft taste, complemented by vanilla, baking spice, and caramel notes. The finish is lingering, peppery, and familiar. It costs around $27 to get a bottle of 1800 Reposado.
Sauza 100 Anos Reposado: Produced in La Perseverancia Distillery, this tequila is double distilled and aged for at least two months in American white oak barrels. It has a place in American history as the first tequila to be exported into the country. Sauza 100 Anos Reposado is amber gold with notes of caramel, cooked agave, toasted oak, and spices. The finish is warm and moderately bites. To have this drink costs only $20.
Hornitos Reposado: This tequila was aged in 10,000-gallon oak barrels, adding a slight pale golden yellow and agave flavors. Unlike most tequilas, it does not have carbs and is smooth and flavorful. Hornitos Reposado, among other things, is sippable and does not require lime wedge or salt to go down smoothly.
Frequently Asked Questions – Jose Cuervo Tradicional Reposado
Is Jose Cuervo Tradicional Reposado Good Tequila?
First, we must differentiate Tradicional Reposado from Jose Cuervo Especial Gold, which hardly penetrated the market. The latter is not made from 100% blue agave plants. However, Tradicional Reposado is pleasant, with complex flavors that blend smoothly on the palate. It is affordable and widely available for those looking for good tequila on a budget.
Does Jose Cuervo Tradicional Reposado go bad?
Generally, tequila does not quickly go bad but can last for ages without opening it or exposing it to external temperature. Once the bottle has been opened, it develops a bad taste if kept longer than necessary.
Also Read: Mandala Extra Anejo Tequila Review
Cheers!
When looking for a balanced, smooth reposado at a low rate, look towards Jose Cuervo Tradicional Reposado. It has all the flavor notes that make an excellent tequila sip with friends and family over a nice meal. It is perfect for all occasions, giving you the right vibe for the tequila party.