Kinky Pink is an exceptional and excellent beverage. Made with unique and natural flavor blends, this drink comes out with a blast of exotic taste.
Kinky Pink, one of the products of Kinky Beverages, is made in the United States. Although vodka originated in Russia, many other countries have started producing vodka or vodka-infused drinks.
In this Kinky Pink review, we would look at everything there is to know about Kinky Pink and why it stands out!
Let's get started!
Value for Price

Mixability

Sippability
⇒ Fun Facts ⇐
| Name: | Kinky Pink |
| --- | --- |
| Brand: | Kinky |
| Country: | United States |
| Spirit Style: | Vodka |
| Spirit Type: | Vodka |
| ABV: | 17% |
Brand History
Established in 2009, Kinky Beverages is one of the most popular alcoholic beverage companies in the United States. It is known for its exceptional and colorful packaging with bold and fruity flavors.
Among the top drinks created by Kinky Beverages is Kinky Pink. It has an infusion of vodka, blood orange, and passion fruit flavors. The color is bright pink, and it can be sipped on its own, mixed with other beverages, or served over ice.
In addition, other beverages were launched by the company together with Kinky Pink, including Kinky Green, Kinky Blue, Kinky Red, Kinky Vodka, etc. The initial launch of Kinky Pink was in 2011, while the company subsequently added others. They are all blended with different flavors, giving each unique color and taste.
Kinky Beverages also creates other alcoholic beverages, like seltzers and canned cocktails. They are all made with the same bold and fruity flavors the company is known for. Besides, all their products are available at major wholesale and retail outlets nationwide. Consumers looking for fun and flavorful alcoholic beverages will find this liqueur vodka appetizing.
Kinky Pink Review
It is a naughty blend of the finest vodka distilled five times with blood orange, mango, and passion fruit. Kinky Pink can be mixed with some fabulous flavors to get signature drinks. It will surely tantalize your palate if taken appropriately. Here is everything you need to know about this spirit:
Nose: The aroma of this drink is a mix of sweet and tart with hints of strawberry, raspberry, and exotic fruits.
Taste: On the palate, you will experience a silky and creamy texture with a lingering sweet and tart flavor.
Finish: The finish is light and refreshing, with a hint of sweetness.
Alcohol content: The 750 ml bottle of Kinky Pink is packaged at 17% ABV (34 proof).
Price: The suggested retail price for each bottle is $20. If you are buying it wholesale, you may get it cheaper. Depending on the area and standard, some shops may sell it lower or higher.
Also Read: Patron Anejo Review (Is it Good?)
Pros and Cons
This drink is technically a great one, evoking pink lemonade. It is sippable for those looking for something off-vodka. Here are the reasons you should take or avoid Kinky Pink today:
Pros
Not bad to sip: It is sweet and sour, with natural flavors and, probably, little additives. The look and taste suggest what the drink stands for – pink liqueur.
Would make a great cocktail: If you are looking for an addition to a glass of juice or tequila or as a topper to sparkling wine, Kinky Pink will be fine. This is because it is a simple drink with mostly a basic flavor.
Cons
Vague dominance: Of the three fruits named in the blend, passion stands out the most. Unfortunately, it is primarily a hazy, lemony citrus that stood out in the taste.
Not an excellent taste: It would have been great if the drink were made for college students. It is overly sweet, with a basic, candy-like flavor. While it is not precisely wrong, many people may not like it.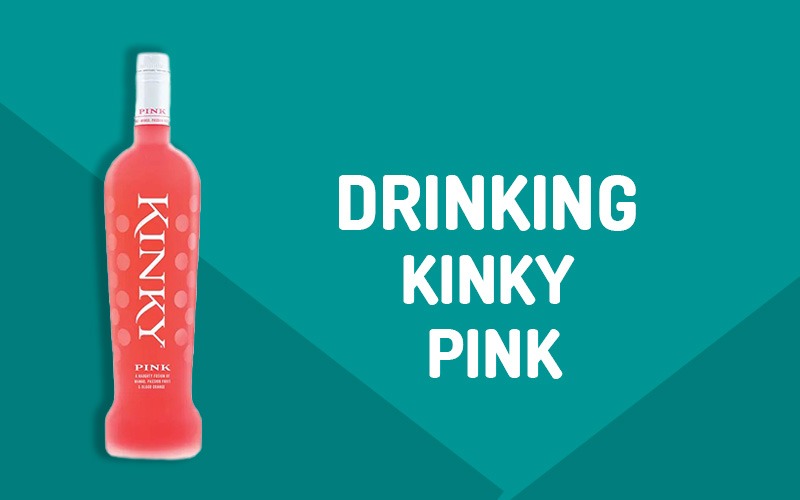 How Best is Kinky Pink Served?
Kinky Pink is suitable for sipping on its own or serving over ice. It is also perfect as a mixer for classics like margaritas or daiquiris. You can shake things up with vodka, tequila, pineapple juice, or sparkling wine. What's more, this drink is ideal for your palate, whether you want something unique to add to your favorite drink or just savor an exotic spirit.
Consider this simple cocktail: Kinky Bubbles
Get 1-ounce Kinky Pink Liqueur and 4-ounce Risata Prosecco to make this cocktail. Chill the liqueur, pour it into a wine glass, and top it with chilled Risata Prosecco.
Perfect Pairings for Kinky Pink
Pickles: Sour and salty notes will pair well with this liqueur. The salt and spice improve the taste of the vodka and reduce the burning sensation. Pickle juice is also great for doing the same work as pickles. But don't forget that too much salt in the body can dehydrate a person.
Sushi or sashimi: This Japanese-style thinly sliced fish or meat called sashimi is often served with wasabi or soy sauce. It is the same as sushi. The vodka base in this drink complements the saltiness and spiciness of the fish and sauce, giving you a relaxed feel. So, get some sushi or sashimi for extra nourishment next time you pop your Kinky Pink.
Fish: Fish makes vodka or vodka-infused drinks more enjoyable. Relax and pour yourself a glass over a salmon, eel, or mackerel plate. The saltier and smokier, the better it is for the show. You can toss the fish in a salad or warm pasta or use it as a topping for crackers and toasts. It can also be enjoyed on its own as a filet.
Sausage: With well-prepared Polish or German-style sausage, pork tenderloin, or smoked ham, this Kinky Pink will go down well. It delivers a perfect balance in the mouth when both come together.
Popular Related Drinks
Kinky Beverage rose to fame with its diverse liqueur and cordials drinks. Aside from Kinky Pink, they have other unique flavors that charm the palate. You may love them, so we want to introduce some of them. Here they are:
Kinky Blue: This is another top drink produced by this brand. It is an infusion of vodka, lemon, and blueberry flavors. The color is bright and bold. Sip it on its own, on the rocks, or mixed into other flavors to serve it.
Kinky Fruit Punch Liqueur: This premium vodka is infused with a succulent mix of pineapple, cherry, and orange flavors. Like Kinky Pink, it is distilled five times and bursts with fusions of these flavors. Adding club soda, lemon-lime, or other fruit flavors can be mixed into a cocktail.
Kinky Green Liqueur: Created with the finest vodka distilled five times, this drink is a fusion of crisp green apple and pear. It is tempting to drink and can be mixed with other flavors for a flirty cocktail.
Frequently Asked Questions – Kinky Pink
What kind of alcohol is kinky pink?
Kinky Pink Liqueur is infused with super premium vodka, blood orange, juicy mango, and passion fruit.
What percent of alcohol is kinky?
Kinky Pink has 17% alcohol by volume and is available nationwide in significant liquor stores and retailers.
Does Kinky get you drunk?
Kinky Pink does not get you drunk easily because it has only 17% ABV. However, you can mellow it with other flavors or ice if you feel this quantity is much.
Can you drink Kinky by itself?
You can drink Kinky Pink on its own, over the ice, or mixed with orange juice, cranberry juice, or vodka for a delicious cocktail.
Also Read: Castle and Key Bourbon Review
Cheers!
No matter how you get kinky, there is a flavor for you. However, this naughty Kinky Pink is the most alluring when you want to go on flavor explosion.