The Patron Anejo Tequila is one of the many tequila brands that trace their origin back to Mexico where the best drinks are made using agelong distilling processes.
It took Mexico many centuries of innovation and creativity to get this far to being regarded as one of the top countries with high stats for the export of tequila.
Come with me on a journey to find out why the Patron Anejo Tequila is such a hit amongst tequila lovers and why you should consider it for yourself.
Let's get sipping!
Value for Price

Mixability

Sippability
⇒ Fun Facts ⇐
| Name: | Patron Anejo |
| --- | --- |
| Brand: | Patron |
| Country: | Mexico |
| Spirit Style: | Anejo |
| Spirit Type: | Tequila |
| ABV: | 40% |
Patron Anejo Brand History
Patron Anejo Tequila brand was founded in 1989 by John Paul DeJoria and Martin Crowley, who was inspired by the growing demand for high-end Tequila in the United States and the insufficient tequila supply; this gave birth to the introduction of Patron Anejo Tequila into the American drinks market, and it has continued to thrive since then.
Despite its high quality and premium price point that many find unaffordable, Patron Anejo quickly gained popularity in the United States and worldwide. It was endorsed by celebrities and featured prominently in bars and restaurants, helping to build its reputation as a luxury brand that many struggle to be reckoned with as a status symbol.
Over time, the brand expanded its product line to include other types of Tequila, such as Silver, Reposado, and Extra Anejo. These products were made using the same traditional methods and high-quality ingredients that had made Patron Anejo successful.
In 2018, Bacardi Limited acquired Patron Anejo, but the brand has continued to produce high-quality teqTequilaing the same traditional methods and techniques. Today, Patron Anejo remains one of the world's most popular and respected tequila brands, a testament to its founders' commitment to quality and innovation.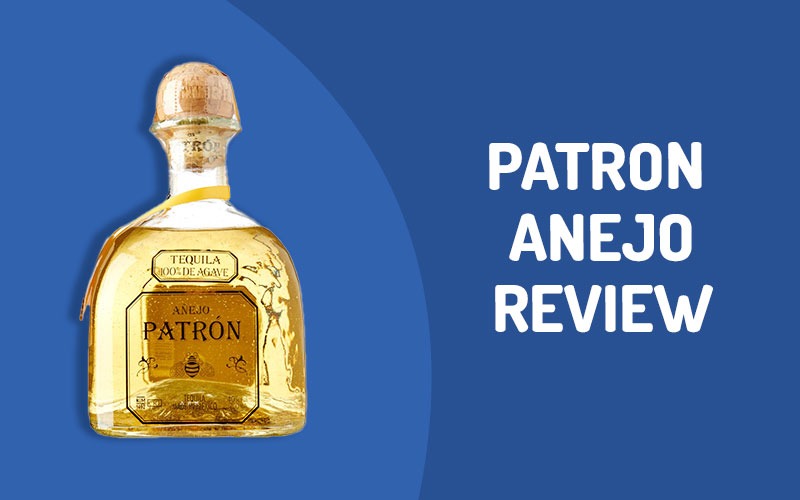 Patron Anejo Review
Category: Patron Anejo is classified as an aged spirit or "Anejo" tequila, meaning it has been aged in oak barrels for at least one year but no more than three years.
Color: The color of Patron Anejo is a golden amber hue, which results from aging. As an aged or "anejo" tequila, Patron Anejo is aged in oak barrels for at least 12 months, which imparts color, flavor, and complexity to the spirit.
During aging, the teqTequilasorbs some color and flavor from the barrels' wood, resulting in the golden color associated with aged tequilas like Patron Anejo.
Nose: The nose of Patron Anejo is complex and rich, with a variety of aromas that are characteristic of aged teqTequilahe first notes that you might detect on the nose are sweet and fruity, with hints of vanilla, caramel, and honey, as well as notes of charred oak and spice that are imparted by the aging process.
As you continue to explore the nose of Patron Anejo, you might also detect some floral and herbal notes with hints of agave, lime, and mint, as well as some subtle earthy undertones.
Alcohol Content: The alcohol content of Patron Anejo tequila is 40% by volume or 80 proof.
Palate: The palate of Patron Anejo is rich, complex, and well-balanced, with a range of flavors that reflect the aging process and high-quality ingredients used in its production. You may first notice a subtle sweetness on the palate, with notes of caramel, vanilla, and honey, characteristic of all aged tequilas.
There is also that slightly spicy pepper flavor, with hints of cinnamon, whiskey, butterscotch, black pepper, nutmeg, and some subtle smoky notes from the oak barrels tequila aged.
Finish: The finish of Patron Anejo is long and warm, with a pleasant lingering aftertaste. The flavors from the palate continue to develop, with hints of oak and vanilla and a subtle smoky finish characteristic of aged tequilas. The finish is smooth and satisfying, with a well-rounded and balanced flavor profile that leaves a pleasant and inviting sensation on the palate.
Price: The price of Patron Anejo can vary depending on your location and the specific retailer where you purchase it. Generally speaking, Patron Anejo is considered a premium tequila and is priced accordingly, with most bottles ranging from $62 to $160.
Some specialty retailers may charge more for limited edition or special release bottles of Patron Anejo, while larger chain stores may offer it at a slightly lower price point.
Also Read: 400 Conejos Joven Oaxaca Mezcal Review
Pros & Cons
Patron Anejo is a premium tequila known for its complex and sophisticated flavor. While the taste of the Tequila is subjective and may vary depending on individual preferences, certain qualities of the spirit are generally considered positive or negative attributes. So pay attention to this section to know if these pros and cons appeal and apply to your preferences.
Pros
Smooth Texture with Long Finish: Patron Anejo Tequila has a smooth and velvety texture that is satisfying to sip, and it has a long and warm finish that lingers pleasantly on the palate.
Premium Tequila Reputation: Patron Anejo is considered a premium tequila, with a reputation for high quality and sophisticated flavor profile. Many tequila fans view it as a premium spirit worth the investment.
Cons
Higher Price Point: Patron Anejo is priced higher than other tequila brands, which may make it less accessible to some consumers. However, the high price reflects the quality of ingredients and the aging process that goes into producing the Tequila.
High Alcohol Content: As with all Tequila, Anejo has a high alcohol content, which may be a drawback for some individuals who prefer lower-proof spirits. Drinking responsibly and in moderation is important to avoid negative health consequences; this makes this drink less appealing to people looking to take just a little alcohol or indulge in drinks with a significantly low alcohol percentage.
How Patron Anejo Is Best Served
Thanks to the versatility of this premium tequila, which allows it to be enjoyed in many ways, you can explore Patron Anejo in various styles ranging from traditional to modern and more sophisticated serving and drinking methods. Some of the serving suggestions include:
On the Rocks: For those who prefer a slightly chilled tequila, serving Patron Anejo on the rocks is a great option. Serving on the rocks features pairing the teqTequilath ice cubes to give it a chilly feel and temperature that will pair well with Patron Anejo and give the palate a chilly and captivating feel.
Neat: Patron Anejo is best enjoyed neat at room temperature as a premium sipping teqTequilaour a small amount into a glass, and take your time to savor the rich myriad of flavors that this teqTequilas has to offer.
Margarita: A classic margarita is a great way to enjoy Patron Anejo in a cocktail setting. Combine 2 oz of Patron Anejo with 1 oz lime juice and 1 oz triple sec in a shaker with ice. Shake well, strain into a salt-rimmed glass over ice, and garnish with a lime wedge.
Perfect Pairings for Patron Anejo
When pairing Patron Anejo Tequila with food, it is important to choose dishes that complement and enhance the flavors present in the spirit to get all the right notes and the right dose of pleasure from the taste of this drink on the palate. Let's explore some creative and delicious meal pairing suggestions that can help you unlock the full potential of Patron Anejo's unique flavor profile.
Grilled Pork Tenderloin: The sweet and savory flavors of grilled pork tenderloin complement the caramel and vanilla notes in Patron Anejo. Pair with a side of roasted sweet potatoes and a green salad for a delicious and balanced meal that you will surely look forward to enjoying again.
Spicy Tacos: The bold and spicy flavors in tacos are balanced by the smooth and rich taste of Patron Anejo. Serve with black beans and corn salad for a perfect pairing.
Caramel Flan: The creamy texture and caramel flavor of flan is an ideal match for the smooth, sweet flavors of Patron Anejo. Serve with fresh berries or whipped cream for a dessert that will impress.
Popular Related Drinks
There are a few related drinks that you might enjoy if you like Patron Anejo and you are looking to get a replacement or alternative whenever Patron Anejo is not available in the market. Here are a few examples of similar drinks you can consider:
Don Julio 1942: This premium tequila is also aged for at least 2.5 years in oak barrels, giving it a smooth, complex flavor profile that includes notes of caramel, chocolate, and vanilla.
Clase Azul Reposado: This Tequila is aged for eight months in oak barrels, resulting in a smooth, full-bodied flavor with notes of vanilla, caramel, and cinnamon.
Casa Noble Anejo: Another aged tequila, Casa Noble Anejo, is aged for two years in French white oak barrels, giving it a rich, oaky flavor profile with hints of vanilla, chocolate, and spice.
Also Read: Wild Heaven Capri Sunset Tropical Hard Seltzer Review
Frequently Asked Questions
Why is Patron Anejo so expensive?
Patron Anejo is expensive because of the artistry that goes into making the drink and the prestige of being spotted with a bottle of Patron Anejo.
What is Patron Anejo?
Patron Anejo is a type of Tequila. It is considered a luxury drink and a status symbol for those who prefer to enjoy it in high society events or their homes and offices.
How strong is Patron Anejo?
With an ABV of 40%, Patron Anejo is quite strong.
Is Patron Anejo a whiskey?
No, Patron Anejo is a spirit that falls under the classification of Tequilas.
Cheers!
A party without a bottle of Patron Anejo is incomplete as this drink has been reputed to be a party shaker, and you cannot afford to miss out on loads of flavors packed in the beautiful bottle that Patron Anejo comes in.
So do not ignore this drink if you come across it at an event, at the bar, on the liquor shelf, or when you are offered after a meeting, as this drink has the right notes to make your day more fluid and pleasant. Enjoy!