This drink was released in time to entice the palate during the spring and summer months. It is intended to be enjoyed anywhere and anytime – outdoors, at the sports club, by the poolside, and other eye-catching places.
Michael David Cabernet Freakshow makes a perfect companion and pairs well with most dishes.
Beyond that, this extraordinary drink is a product of Lodi, California. As the wine republic of the world, the state of California is a place to associate with good wines.
This article covers a Michael David Cabernet Freakshow review, exploring everything to know about this drink.
Let's get started!
Value for Price

Mixability

Sippability
⇒ Fun Facts ⇐
| Name: | Michael David Cabernet Freakshow Wine |
| --- | --- |
| Brand: | Michael David |
| Country: | California |
| Wine Style: | Cabernet Sauvignon |
| Wine Type: | Red Wine |
| ABV: | 14.5% |
| Released: | 2022-Present |
Brand History
The grapes for manufacturing this wine are sourced from the Michael and David Phillips 800-acre family vineyard in the Lodi Appellation. The drink is certified sustainable under the Lodi Rules program. The winery is one of the largest in the United States. The Phillips brothers released their first commercial wine in 1984 under the Phillips Vineyard label.
Currently, they have celebrated almost 40 years as a bonded winery, priding itself in meticulous farming and sustainable wine grape growing. This has led to the most premium-quality bottles you have ever tasted.
Since its release in 2012, the Michael David Freakshow brand has advanced from 5000 to over 350,000 cases across four varietals. Moreover, they have won multiple awards globally and are distributed across 50 states and 26 countries. Michael David Winery is prominent for taking the road less traveled, elegantly branding and packaging its drinks.
In 2020, they won Wine Enthusiast's American Winery of the Year to acknowledge this inventive work. It is perfect for any occasion, adding an exquisite wine collection.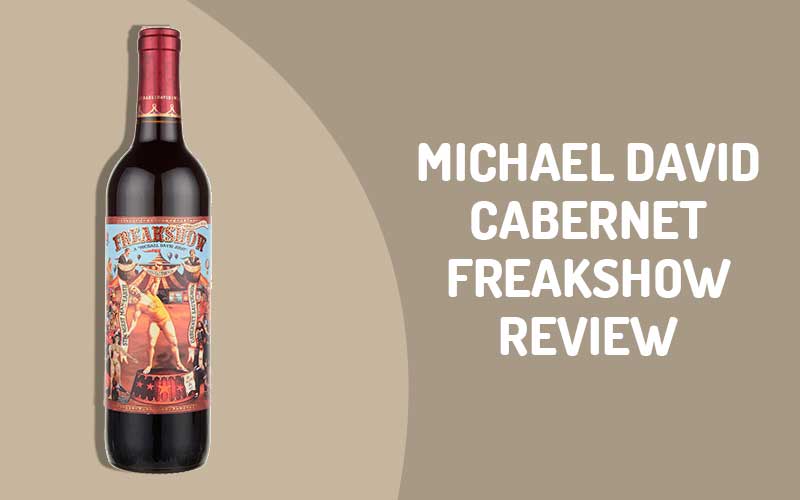 Michael David Cabernet Freakshow Review
Michael and David are on a different stage, standing apart from the crowd, evidenced by this drink. Step up for another level of experience as you sip from your glass.
Michael David Cabernet Freakshow is robust, full-bodied, and concentrated with multiple fruit flavors, oak, and butterscotch notes. After vinifications, it is aged for 14 months in a 20% new French oak barrel. Here's all you need to know about this Freakshow wine:
Palate: This wine displays chocolate, truffle, plum, and butterscotch on the taste buds. You will also notice additional notes of pomegranate and smoke.
Nose: Michael David Cabernet Freakshow opens up with toasted hazelnut, strawberry, and black cherry aromas.
Finish: The taste notes are balanced by an oak-inspired, crisp finish laced with firm tannins, which will always have you returning for another sip.
Appearance: This Michael David Cabernet has a deep garnet color, which blends with the delicious taste and aroma.
Alcohol content: 14.5% ABV. This means that the alcohol by volume of the wine is adequate compared to other red wines.
Pros & Cons
This drink is high in polyphenol content and tends towards a dry style, making it a healthy option. It also has other nutrients that make it a great drink to consider. It is specifically high in antimicrobial properties and free radical hunting activity.
Remember, it is easy to drink once you decant it and does not need to be chilled before doing so. Consider the following reasons to drink Michael David Cabernet Freakshow:
Boosts heart health: This cabernet contains antioxidants, which can increase the good cholesterol level in the body. This, in turn, prevents heart disease. Resveratrol in the drink also protects the lining of the blood vessels in the heart, reduces blood clots, and prevents immature fat cells from growing.
Reduces cholesterol levels: The resveratrol in Cabernet Freakshow Wine helps to lower the consumption of trans fats. If you have dark meat, drinking this wine in a moderate amount can help prevent the release of harmful compounds, which could increase cholesterol levels.
Prevents obesity: Antioxidants in this drink can convert the bad fat into calorie-burning brown fat and fight obesity. It can also lower the harmful effect of smoking and cell aging.
Promotes longevity: According to research, resveratrol in red wine can increase lifespan by 60 percent and offer higher energy levels. It does so by stimulating longevity genes and protecting our neurons from the adverse effect of aging.
Lowers stress: A glass of Cabernet Freakshow Wine can help to reduce stress. Do not take it right before sleep, but with your dinner. The result is that you will enjoy a peaceful sleep.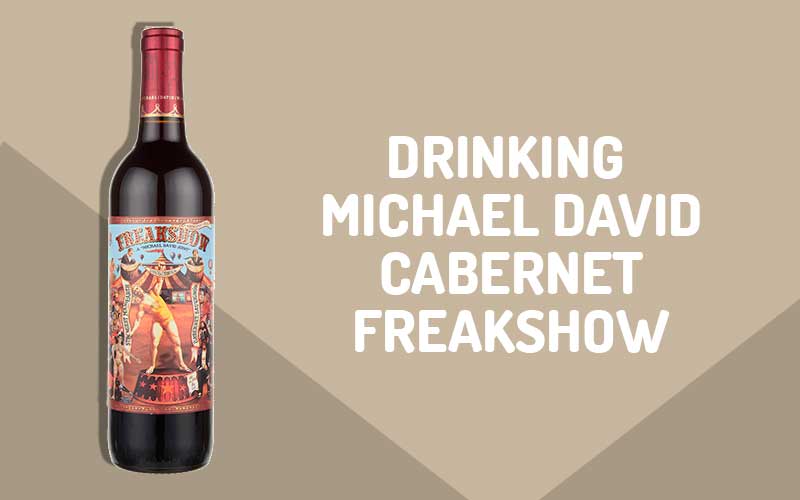 How Best is Michael David Cabernet Freakshow Served?
Michael David Cabernet Freakshow should be allowed to breathe for 30 to 60 minutes. The oxygen will help to loosen the overwhelming bold flavor, making it great for the palate. As a cabernet, the serving temperature should be between 16 to 20 degrees Celsius or at room temperature.
There is no need to chill it ahead or put it in an ice bucket. However, you could make it chilled if you want it cold. Again, always serve it in a tall red wine glass. Hold it by the stem to avoid warming the wine and dulling the aroma and taste.
Also Read: Crown Royal Lemonade Review
Perfect Pairings for Michael David Cabernet Freakshow
Michael David Cabernet Freakshow wine leaves the mouth feeling dry. That's why it is best drunk during a meal and paired perfectly with the best food to achieve that aim.
The most suitable for this bold, full-bodied wine include ribs, steaks, venison, cheeses, mushrooms, etc. Vegetarians and vegans will also find the wine great for their palates.
Pairing it with delicately flavored food will not be great because the overwhelming flavor of the drink will overshadow that of the food. Here are some of the food to try:
Strong cheeses: We have established that Michael David Cabernet Freakshow Wine should be paired with strong flavors. Consider extra matured cheddar, gouda, aged Gruyere, Cheshire, Roquefort, or pecorino. As long as they are strong-flavored hard cheeses, bring it on.
Smoked and fatty meats: Whether roast beef slices, salami, or bresaola, it is a beautiful opportunity to try your Cabernet Freakshow Wine with friends and family. You can try other meats to check what works and doesn't work.
Meat-free options: Try your Cabernet Freakshow Wine with other options like mushrooms, olives, and intense umami flavors like miso. This full-bodied red wine is also an excellent selection for sauces and reductions.
In addition, avoid pairing your Freakshow with rice or pasta because their starch content will escalate the wine's tannins. Fats and proteins easily bind to the tannins and extract their flavor, which blends with the meal.
Popular Related Drinks
Aside from Michael David Cabernet Freakshow, the brand has other successful drinks you will appreciate. Some of them include the following:
Michael Freakshow Red Wine: This was the next in line after Cabernet Freakshow Wine's launch, the first in the brand's lineup. It is made of Syrah, Petite Sirah, and Souzao, offering natural and enigmatic allure. The aroma comprises complex flavors of butterscotch, licorice, herbal, and raspberry notes. It is full-bodied and has tannins while giving the taste of toasted baguette, crème brulee, and dark fruit. This leads to a velvety and lingering finish.
Freakshow Zinfandel: This is another installment of the Phillips brothers, paying homage to the roots in Lodi. It is prominent for its spectacular zinfandel, bold and smooth. On the nose, it has notes of exceptional vanilla and bright fruit. The flavors on the taste buds are peppery spice, cranberry, and cherry, leading to a balanced, oak-inspired finish.
Frequently Asked Questions – Michael David Cabernet Freakshow
Does Michael David Cabernet Freakshow Wine make one sleepy?
Generally, red wines make one sleepy because of the high alcohol content, a solid sedative, and melatonin in the drink. White wines may not have the same effect because it has those characteristics in lower quantity.
What is the best wine glass for Michael David Cabernet Freakshow?
Before selecting the wine glass for the drink, you must decant or aerate it. This makes it easier for oxygen to reach the surface area of the wine. However, Michael David Cabernet Freakshow is best served in tall red wine glasses with a bigger bowl. The height of the wine makes it a bit challenging to reach your lips, while the bowl allows for the aeration of the wine.
Using a taller glass will allow you to enjoy the aroma of the wine before taking a sip. Remember, your sense of smell affects your sense of taste. Hence, with a perfect wine glass, you can achieve the best. Hold the glass by the stem when drinking so the heat from your body does not affect its temperature.
Also Read: Quady Red Electra Moscato Review
Cheers!
Because Michael David Cabernet Freakshow contains a high quality of tannins with a bold taste, it is unfavorable to drink wine during a social gathering. The wine makes them thirsty easily, and no one would want such.
Moreover, you can get creative by serving it with good food, not something overwhelming. But if you want something else, you can consider any other products of the Phillips brothers brands.