Are you about to purchase Quady Red Electra Moscato?
Quady Red Electra Moscato is a local drink in California made by the Quady Family, who has been in the winemaking business for quite a long time now.
The Quady Winery is located in the heart of Madera in California, specializing in producing sweet and aperitif wines. California locals are in love with this Moscato because it is indigenous.
First released in 2020, Quady Red Electra Moscato promises a taste of heaven in a glass. Here, we would be doing a Quady Red Electra Moscato review, binging to the table all there is to know about this wine.
Let's get started!
Value for Price

Mixability

Sippability
Quick Facts
| Name: | Quady Red Electra Moscato |
| --- | --- |
| Brand: | Quady |
| Country: | California |
| Wine Style: | Sweet |
| Wine Type: | Red Wine |
| ABV: | 5.5% |
| Released Date: | 2000 |
Brand History
Quady Red Electra Moscato is produced by Qady Winery, a family-owned and operated small business. It is the only Californian winery specializing in producing sweet and aperitif wines.
Andy Quady, the owner, worked in pyrotechnics before becoming a winemaker. When convinced that it was time to switch careers, he moved to the San Joaquin Valley, where he started working in the wine industry.
In 1975, Andy Quady produced his first wine called '75 Zinfandel port. He then discovered an unused patch of uncommon grape specie, Orange Muscat. In Italy, it is called Moscato Fior d'Arancio. This discovery brought about his passion for Muscat-based wines.
After that, Quady became an expert in Moscato, Muscat, Sherry, Port, and Vya Vermouth. He has also manufactured numerous other wines, like Cabernet, Franc, Syrah, Viognier, and Rhone blends.
The winery has also won local and international awards, with over 1000 awards and medals credited to its wines. When taking a sip of Quady Red Electra Moscato, understand that you are not just drinking wine but also enjoying award-winning expertise.
Quady Red Electra Moscato Review
This California-made blend of Black and Orange Muscat has unique fruit characters with a red-purple color and stimulating spritz. It was fermented slowly at a temperature that ensured the bold flavor profile was retained. That is why Red Electra tastes the same as a cherry-filled bowl.
It was released in 2000 and has garnered numerous positive reviews because of its uniqueness. Here is the tasting profile:
Taste: Red Electra Moscato has a juicy cherry, pomegranate, and berry taste with a slight sparkle. A tantalizing tang of tartness helps to balance the sweetness.
Body: It is full-bodied and perfectly balanced.
Alcohol: 5.5% ABV. The alcohol by volume is 5.5%, making it an ideal wine for parties, picnics, or pairing with desserts after dinner.
Price: Quady Red Electra Moscato costs an average of $13 per 750 ml bottle. This price is not outrageous foe a drink of this caliber. Moreover, it may higher or lesser in stores or retail outlets within our outside the USA.
Should you Drink Quady Red Electra Moscato?
The benefits of taking Red Moscato must be considered. It contains flavonoids and antioxidants from the grapes used in its production. The lower alcohol content also contributes to that.
Healthy heart: When taken in moderation, Quady Red Electra Moscato is good for the heart. It is considered heart-healthy since it contains antioxidants that help prevent heart diseases.
High flavonoid content: Flavonoids are antimicrobial, which help to boost mood. They also make great options for reducing the risk of chronic diseases like stroke and cancer.
Low acid: The acidity level in Electra Moscato Rosé is relatively low. Thus, the drink is not harmful to the body. So you are not scared of stomach or kidney issues.
Low alcohol content: This Red Moscato wine only contains 5.5% alcohol by volume. As long as you consume it in moderation, the low alcohol content will take care of itself, making the drink less harmful and more beneficial.
Easy to sip: The low alcohol content of Quady Red Electra Moscato makes it easy to sip. It does not knock the individual off or be harsh on the palate.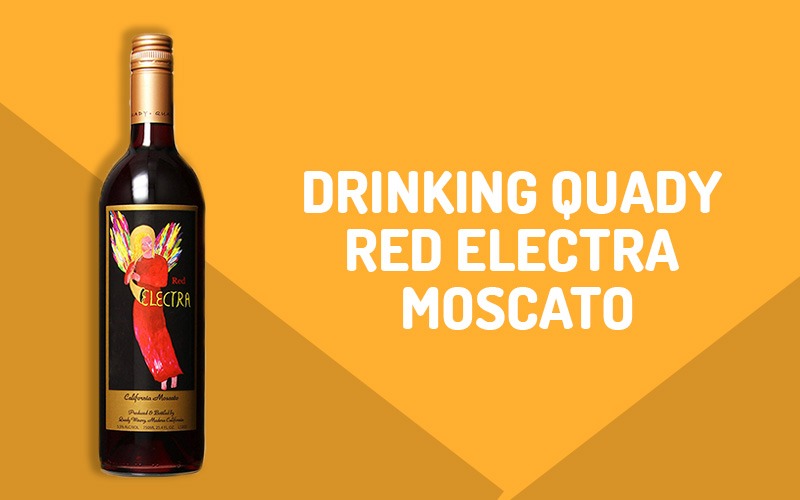 Drinking Quady Red Electra Moscato
Quady Red Electra Moscato is best served slightly chilled at 50 degrees Fahrenheit. You can drink it outside, neat, or on the rocks.
The wine is perfect for those who love a sweet and refreshing drink. Because of its versatility, it is particularly ideal for sipping alone or paired with your favorite meal. You can trust the Red Electra Moscato for any occasion, solo or with friends.
Aside from being a fantastic wine for sipping, you can make delicious sangria. All it requires is to chill the drink and combine it with any seasonal fruits and a splash of pure water.
To make sorbet, freeze the wine overnight in a freezer-safe container and serve it as a dessert. Overall, the Quady Red Electra Moscato is a succulent wine with a bold cherry taste. The wine is strictly made to pair with desserts after a mind-blowing meal.
Perfect Pairings for Quady Red Electra Moscato
Pair your luscious Red Electra Moscato with spicy Japanese or Indian food, light desserts, fresh fruit salad, or sweet-sauced burgers in warm weather, airy setting, or outside. The beautiful thing about the drink is that it is flexible and allows you to experiment with dishes.
However, rather than experimenting, we have compiled the best options to make a memorable time with your taste buds. Let's see them!
Spicy dishes: Spicy food offsets the sweetness of Quady Red Electra Moscato. Try it with spiced chicken wings, meatballs, or curry dishes. A glass of this wine provides perfect harmony to the food.
French toast: This classic breakfast never gets old, consistently topping the chart. The French toast's nutmeg, baking spices, and cinnamon will blend perfectly with the sweet Red Electra Moscato. It is simple – take a bite, sip, and let the flavor explode in your mouth.
Maple-glazed ham: Match this Electra Moscato Rosé with this delicious food to enjoy the sweet-sweet complement. Desserts also have the same effect on the palate.
Chinese food: Whether it is egg rolls, fried rice, orange chicken, or chow mein, you can't go wrong pairing it with Red Electra. The vibes on the taste buds will want to make you not stop eating.
Appetizers: If you want to snack on light food, try a drink with salty chips and nuts. A soft light cheese of bruschetta will make a difference in complementing the drink.
Seafood and fish: The salty flavor of seafood will make a complementary note with Red Electra Moscato. Add some spiciness to the fish if you want it to hit the spot. Blackened salmon or Portuguese fish chowder will also give the same effect.
Remember, the intense sweetness of the Red Moscato makes it a great option for an aperitif to stimulate appetite. We know you will love the effect on your appetite.
Also Read: Boosie Juice Strawberry Kiwi Review
Popular Related Drinks
Quady Red Electra Moscato does not exist alone; other wines are closely related. If you are looking for an alternative, here are options:
Electra Moscato: This is another burst of flavors coming from the stables of the Quady Family. It is a Moscato d'Asti-style picnic wine that you can drink on a warm summer day. Soft bubbles float over peach, melon, and sweet citrus flavors. For a more delicious outcome, pair it with salad, Asian food, desserts, fruit salad, and more.
Popularly known as Electra, it is made from over 75% Orange Muscat and 25% Muscat Canelli. These species are more difficult to grow, and their yield is small. However, they possess more refined aromas, so they are unique. The juice is fermented for over a month at low temperatures to make it. It is then chilled, sterile-filtered, and bottled.
Quaddy Essensia Orange Muscat: This full-bodied sweet wine is created with Orange Muscat grapes. Essensia is rich gold in the glass, with a spicy orange-pear-apricot flavor and aroma balanced with fruit tartness. Taking a sip now and then is the magic.
Quady Elysium Black Muscat: This wine offers notes of roses with cherry and strawberry, while fruit acidity balances it. Pairing it with gorgonzola or goat cheeses, desserts, dark chocolate, or cheesecakes takes your palate to another level of fun.
Frequently Asked Questions – Quady Red Electra Moscato
Do you serve Red Moscato chilled?
To improve the sweetness and elicit the floral and fruity flavor, serve your favorite Moscato chilled around 50 degrees Fahrenheit. A resealed Moscato can stay in the container for three to four days before spoiling.
Is it safe to drink Red Moscato every day?
Moderation is key; to remain healthy, you must not drink more than the required quantity. Legally, women are to drink only five ounces of wine, equal to one daily drink. Men should stay within two.
Do you refrigerate Red Moscato after opening?
Once opened, put it in a fridge or wine cooler for preservation, but ensure it is sealed. The cold atmosphere will delay the wine's decaying process, allowing you to enjoy it for a long. Another way to enjoy it after opening it is by using a wine-vacuum seal. It eliminates any air and enables a tight lock, which helps slow down the decaying process.
Also Read: Crown Royal Lemonade Review
Cheers!
Quady Red Electra Moscato is a wine to drink for an unforgettable experience. It provides a sweet and acidic balance to the palate. It is the most sought-after among other Quady Winery products.