Based on popular demand, Wild Heaven Capri Sunset Tropical Hard Seltzer is a fantastic product that hit the market with its luscious flavor. It is organic and gluten-free and if you are a seltzer fan, you can't say no to it.
Wild Heaven plans to raise the standard of seltzer in the South, which is why it brought the traditions of Europe to the heart of the United States.
The impact is felt throughout Tennessee, Georgia, South Carolina, and Alabama, where its breweries are cited.
In this article, we would be doing a Wild Heaven Capri Sunset Tropical Hard Seltzer review bringing to the table all there is to know about this drink.
Let's get started!
Value for Price

Mixability

Sippability
Quick Facts
| Name: | Wild Heaven Capri Sunset Tropical Hard Seltzer |
| --- | --- |
| Brand: | Wild Heaven |
| Country: | United States |
| Spirit Style: | Hard Seltzer |
| Spirit Type: | Seltzers & Flavored Beverages |
| ABV: | 5% |
Wild Heaven Capri Sunset Tropical Hard Seltzer Review
This drink is described as summer in a can, and the reason is plausible. If you are looking for a companion on a summer evening, you can't go wrong with it. It evokes childhood foil-packed drinks with nice little bubbly kicks.
So, if you are missing those summer vibes, Capri Sunset Tropical Hard Seltzer is about to kick you back to the rhythm. Check out the flavor profile before you crack this can open:
Taste: On the palate, notes of pomegranate, strawberry, and cherry are felt.
Nose: Capri Sunset passes fruity aromas as you raise the glass.
Alcohol: 5.0% ABV. ABV is alcohol by volume and measures how much alcohol a drink contains. Capri Sunset Tropical Hard Seltzer is easy to sip as a low-alcohol-content drink.
Price: Your favorite hard seltzer does not cost an arm and a leg. With around $10, you can purchase a can in the US. However, the price can vary based on the shop and place you bought it.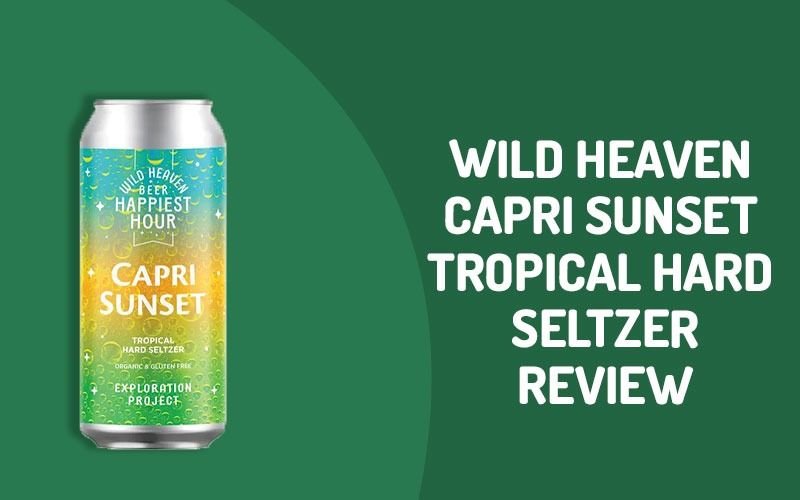 Should you Drink Wild Heaven Capri Sunset Tropical Hard Seltzer r?
Antioxidants and loads of vitamins C make Capri Sunset a healthy drink if taken moderately. The lower alcohol content in this drink can also be a benefit. Since many people are getting addicted to hard seltzer these days, it is best to educate them on the component of their choice. This seltzer is a better choice for healthy drinks than other drinks. Here is why:
Fewer calories: It contains less than 100 calories per drink, an excellent option for those on keto or weight loss. You can take a little at a time and enjoy your drink. Remember, less alcohol means fewer calories.
Gluten-free: This drink is a good choice for those suffering from a health challenge that opposes gluten-option food. It does not contain glutinous substances.
Convenience: Capri Sunset Tropical Hard Seltzer is canned, easy to pack, and ready to drink. This makes it a convenient drink to slide into your bag and take along.
Also Read: Taj Mahal Beer Review (Is it Good?)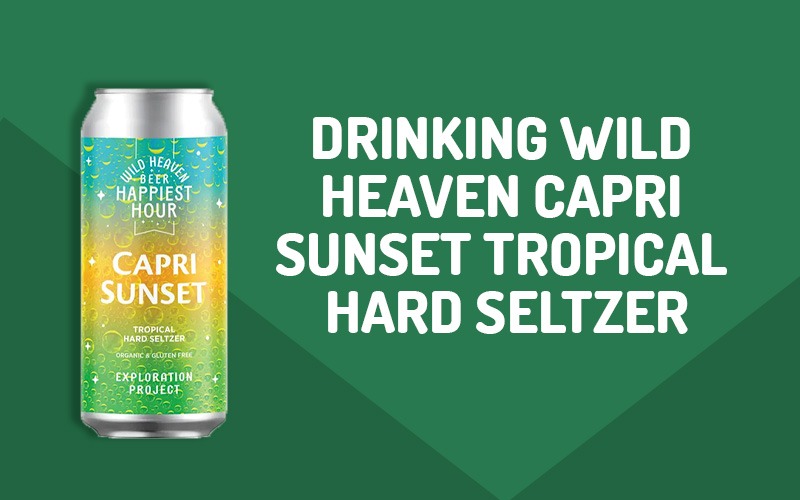 Drinking Wild Heaven Capri Sunset Tropical Hard Seltzer
Capri Sunset is easy to pop open and sip as a fizzy drink. However, other ways to make it appealing to your taste buds exist. Chilling it before drinking from the can or pouring it into a glass is best. If you want to enhance the flavor, add a little fruit, some ice, or both.
Adding a shot of liquor won't be a bad idea, too. Whatever flavor you think can do the job is excellent. It is hard to ignore the trendiness of this drink. So, find a way to make each sip fun.
Perfect Pairings for Wild Heaven Capri Sunset Tropical Hard Seltzer
"Does Capri Sunset Tropical Hard Seltzer pair with food?" you may ask. Like most alcoholic drinks, the answer is yes. However, it may not pair with a particular food. Although we may explain some of the dishes you can try with your favorite drink, researching and exploring on your own is not a bad idea. Below are some of the dishes that can make a perfect pair with this hard seltzer drink:
Fried fish and seafood: Wild Heaven Capri Sunset Tropical Hard Seltzer can benefit from the savory tastes of seafood and fish. They make a great blend on the palate. Breaded shrimp and oily fish like salmon, mackerel, and tuna are good examples.
Spicy dishes and earthy flavors: The light fruity flavors of Capri Sunset will make a perfect pair with spicy dishes. The taste is as if they both were made for each other. Try it with sweet and sour food combinations, and you will get the same result.
Asian food: Sashimi, Pad Thai, chicken satay, sushi, and tangy ponzu sauce will make wonderful combinations with this drink. They could be harder-to-pair-with foods, but with the light taste of Capri Sunset, they will blend well. Wild mushroom risotto, Asian stir-fries, and stuffed Portobello are all complementary with fruity flavor hard seltzers.
Grilled chicken: Capri Sunset Tropical Hard Seltzer will pair with bold and tropical meals since they share the same flavors. The smoky barbecue taste of the chicken will give your drink a perfect blend.
The bottom line remains that pairing Capri Sunset Tropical Hard Seltzer with food is a great adventure. It involves flavor combination exploration and discovering what works for you.
Popular Related Drinks
For those looking for an excellent alternative to Wild Heaven Capri Sunset, any of the following hard seltzers may be ideal:
Flying Embers Hard Seltzers: This drink is infused with botanical bitterness, malt liquor, and fruit flavors. If you want a sugarless drink bursting with flavors, you can grab a can of Flying Embers Seltzers. It is gluten-free, has no sugar and carbs, and is certified by the USDA. Besides, the alcohol content is only 5.0%.
Hornitos Tequila Hard Seltzer: Hornitos is known for pushing boundaries to defy tradition. It is made with real Hornitos Plata tequila and natural flavors with no artificial sweeteners. The traces of tequila and mango make it ideal for any occasion. So, take a shot and enjoy the night.
Wild Basin Hard Seltzer: This delicious hard seltzer appears from the magical foothills of the Rocky Mountains of Northern Colorado. It is created with natural flavors and fruit juice, which leads to a refreshing and crisp finish. It is a taste of summertime; the hot afternoon will thank you better.
San Juan Hard Seltzer: Established by Kay Enger in 2017, this drink is made with natural fruit flavors and alcoholic sparkling waters that refresh the palate. The aroma is honeysuckle, reminiscent of its bone-dry Riesling inspiration. San Juan is meticulously canned to maintain carbonation and give your palate and nostril a great time. It is low in carbs, sugar, and calories while transforming everyday occasions into spirited ones. Moreover, the alcohol content of San Juan is only 4.2% Alcohol by volume.
Frequently Asked Questions – Wild Heaven Capri Sunset Tropical Hard Seltzer
People often misconstrue the drink as soda or vodka, but Capri Sunset is definitely not that. It is not made from any distilled spirit but shares the same characteristics as beer. The primary constituent of this drink is carbonated water (seltzer) mixed with a little sugar and yeast, which converts it into alcohol. Then, it is infused with natural fruit flavors to enhance the taste. In simple terms, it is alcoholic bubbly water.
Is Capri Sunset Tropical Hard Seltzer a low-carb drink?
This hard seltzer is low on calories (23) and carbs with little or no sugar. It is also gluten-free with low alcohol content (5.0% ABV). This makes it a better choice for beer or a ready-to-drink cocktail. If you are health-conscious, you have nothing to worry about here. Capri Sunset is like nothing you've tasted before.
What is the difference between beer and hard seltzer?
A significant variation between the two drinks is that beer is created using grains and additives during brewing. In contrast, hard seltzer uses fruit, cane sugar, and natural flavoring.
Also Read: Terra Lager Beer Review (Is it Good?)
Cheers!
Wild Heaven Capri Sunset Tropical Hard Seltzer is a drink for everyone who wants low-carb, low-calorie, and low-alcohol content drinks. It is mild on the palate while offering a delicious taste.
Have a fun drinking time!