Created using a distinct process of three distillations, this excellent drink contains a great flavor with a dry finish. This is to ensure smoothness and precision.
Even though Smirnoff originated from Russia, Vladimir Smirnoff re-established the brand in Europe over a century ago.
The brand came to life in 1934 in America and has expanded to other countries. Millions around the world enjoy this drink, and it has become one of the world's four largest international spirits.
This article covers a Smirnoff Pink Lemonade Vodka Review, we would be exploring everything there is to know about the Smirnoff Pink Lemonade Vodka.
Let's get started!
Value for Price

Mixability

Sippability
⇒ Fun Facts ⇐
| Name: | Smirnoff Pink Lemonade Vodka |
| --- | --- |
| Brand: | Smirnoff |
| Country: | United States |
| Spirit Style: | Flavored Vodka, Lemonade |
| Spirit Type: | Vodka |
| ABV: | 30% |
| Released: | 2021-Present |
| Price: | $11 |
Brand History
Smirnoff is one of the best-selling premium vodkas the world boasts of. It was established in 1864 and served only excellent pure-tasting and smooth spirits.
This drink is widely ranged with irresistible flavors to tantalize your taste buds. Whether you want Smirnoff spirits or ready-to-drink products, there is something for everyone. The brand has a drink for every occasion.
In addition, Smirnoff was established in 1864 by PA Smirnov. Following the Russian Revolution, PA's son, Vladimir, relaunched it in Europe under an anglicized variant of the brand's 'Smirnoff.' Currently, Smirnoff is owned by the master spirit distiller Diageo. After making waves in the US for years, it finally reached the UK.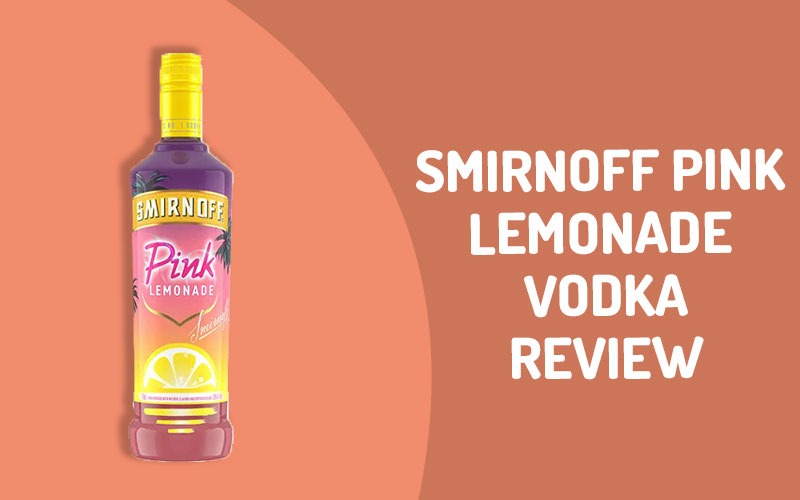 Smirnoff Pink Lemonade Vodka Review
If you want to stun your guests with bold flavors and a deluxe taste, Smirnoff Pink Lemonade Vodka is a must. It is a great brand that pairs with numerous foods and can be made into cocktails. To learn more, check out the flavor profile:
Taste: This drink is flavored with raspberries, strawberries, and lemon to flavor the award-winning succulent and refreshing pink lemonade. It gives the perfect balance of sweet and sour that you would love. The new release is triple-distilled to provide that classic smoothness Smirnoff is known for.
Nose: Once you unscrew the cork, a lemonade aroma, alcohol, strawberry, and raspberry whiffs fill the nose if you want to go the neat way. But why should you when you can pour it over cubes of ice? The smell on the ice is summery pink lemonade.
Finish: The lemon, strawberry, and raspberry flavor fades into sour lemon and finishes with a straight corn vodka, a hint of heat, a peppery sting, and lemon peel.
Alcohol content: Smirnoff Pink Lemonade Vodka is bottled at a little lower than 30% alcohol by volume (ABV) and 60 proof. The not-so-much alcohol content allows the exciting flavors to infuse better.
Also Read: Michael David Cabernet Freakshow Review
Pros & Cons
Although people attribute it as a drink with little or no benefits to the body, they are not outright factual. Some of the good sides of drinking Smirnoff Pink Lemonade Vodka include:
Stress management: This drink can take care of your after-stressful day. You can pour some over ice and unwind your day, relax for a movie, or watch as the day folds into the night. There is a usual belief that wine or beer is the best for this purpose, but when you take the right amount and sip it slowly, you will achieve the same result.
Promote sleep quality: Small amount of vodka can induce good-quality sleep. If you have insomnia or find sleeping difficult, take a little of Smirnoff Pink Lemonade Vodka. However, try not to rely on it whenever you want to sleep. Doing so will increase your alcohol tolerance and improve sleep disturbance.
Help weight loss: Since vodka does not contain much sugar, it will not likely give you a beer belly. Hence, if you want to diet without giving up on alcohol, you can occasionally take some Smirnoff vodka. Remember, the calories are not up to 100.
Great on the skin: Vodka contains detoxifying and disinfecting elements that can benefit the skin. It helps to tighten and unclog the pores, treat acne, clear rashes, and more. However, you may need the help of your dermatologist to carry it out.
Maintain good oral hygiene: The mouth is the window to other body parts. That is why paying attention to our oral health is not to be negotiated. You can gaggle it in your mouth to eradicate mouth odor. Doing it excessively may lead to the same disease you want to cure.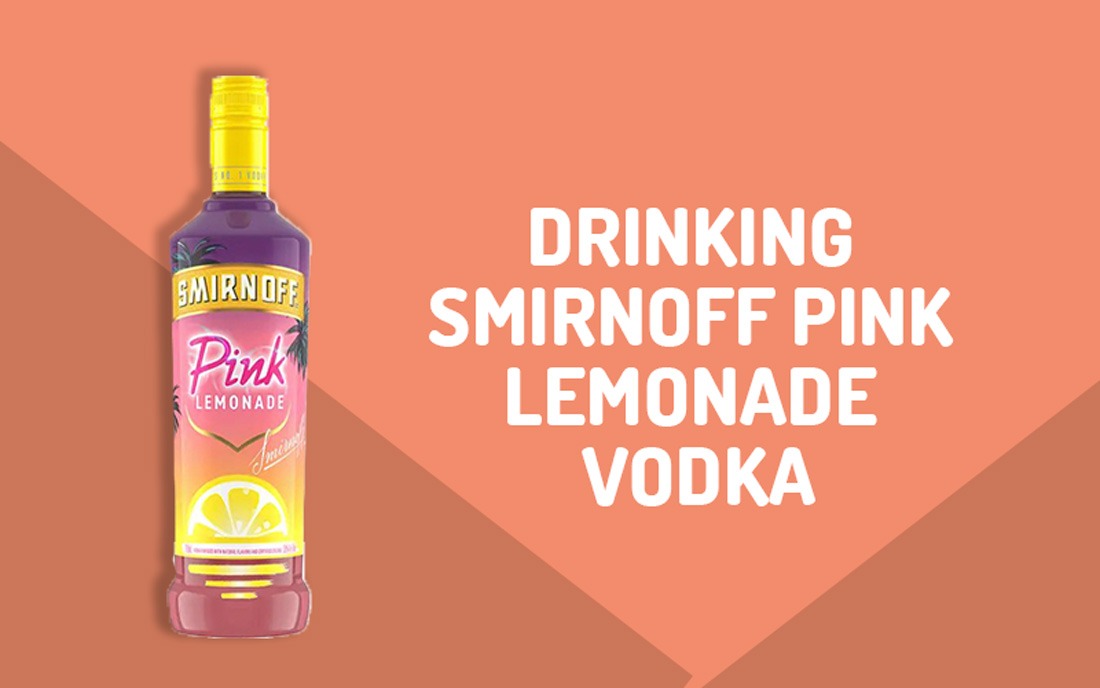 Drinking Smirnoff Pink Lemonade Vodka
This drink is ideal for any serving. You are in the right spot, whether you want to drink it neat, on the rocks, or made into cocktails.
Neat: If you are drinking Smirnoff Pink Lemonade Vodka neat, you can simply pour it into a glass and sip it.
On the rocks: Pour a considerable quantity of ice in a class and top it with your favorite Smirnoff vodka. Each sip hits the spot with its cooling effect.
The Pink Lemonade is an ideal pour for a classic cocktail. Add it to cosmopolitan cocktails like Sex on the Beach, or mix it with lemonade and ice cubes to quench your long, lazy, summer-infused thirst.
To make a glass of Cosmopolitan cocktail, get 45ml Smirnoff Pink Lemonade, 15ml orange liquor, 30ml cranberry juice, and squeezed fresh lime. Shake them up in a cocktail shaker and strain them into a glass.
Perfect Pairings
If you are a vodka fan, you will enjoy every bit of this Smirnoff-flavored drink. It pairs well with many dishes, giving a decadent taste you can't resist. Some of the foods you can bet on include:
Caviar: as vodka originated from Russia, so is caviar. This makes them a good combination. Smirnoff Pink Lemonade Vodka contains only 89 calories, the same way caviar is low in calories. It is elegant and pairs well with vodka when chilled.
Pickles: Bloody Mary is a known pair with pickles. However, vodka does a great job in that regard, as well. Don't be shy to try something new. Get a chilled Smirnoff vodka and enjoy the effect of the sour and salty notes of pickles. The flavor blend does not just cool your heart; the aftertaste is extraordinary.
Smoked salmon: Is there a better flavor blend than the smokiness of this fish and the tartness of Smirnoff Pink Lemonade Vodka? What a pleasant surprise to know that a glass of vodka can perform wonders with a piece of salmon. If you want something light and filling, go for it.
Steak: With all the protein you get from steaks, enjoy a great time with the flavored Smirnoff you serve it. Make your vodka ice-cold and grab a piece of steak for snacks, lunch, or dinner.
Cheese: Some cheeses make a great companion with vodka. Just nibble the cheeses and fill a glass with this lemonade vodka for a memorable afternoon snack.
In addition, regardless of what you pair with your drink, enjoy it at a moderate rate. If you drink excessively because of the deliciousness of the pair, it may hit back beyond your imagination.
Popular Related Drinks
Smirnoff is not a new brand in the market, so it has numerous products making waves in different variations. For flavored vodkas, like Pink Lemonade, you can choose other options. Smirnoff Peach and Orange Lemonade Vodka are two examples.
Smirnoff Peach Lemonade Vodka: This bold and nostalgic drink contains bright peach flavors with sweet and refreshing notes. You can never pass this by if you want a flavor-bursting time with your friends. Smirnoff Peach Lemonade Vodka is an excellent drink for all times, whether you want an outdoor celebration or to rest at home in the evening. Enjoy it at your cocktail party by infusing it with iced tea, lemonade, or just as a shot. Each pack contains 30% alcohol by volume, so enjoy responsibly.
Smirnoff Orange Vodka: This delightfully triple-distilled Russian vodka is blended from six orange fruits, including Cara Cara Navel, Satsuma Mandarin, and Royal Mandarin. It is smooth, zesty, and sweet, with a rich, plump mouthfeel, satisfying from start to finish. You can serve it in citric cocktails like Blood Orange Martini, Cosmopolitans, and Screwdrivers.
Frequently Asked Questions – Smirnoff Pink Lemonade Vodka
Is Smirnoff Pink Lemonade Vodka strong?
Smirnoff Pink Lemonade and other flavored products have 30% alcohol by volume, which makes it a slightly strong alcohol. It is sippable and refreshing. However, it would be best to drink responsibly when taking it, knowing that a few more shots could knock you down soon.
What does Smirnoff Pink Lemonade Vodka taste like?
This drink is flavored with raspberries, strawberries, and lemon to give the award-winning succulent and refreshing pink lemonade flavor. It provides the perfect balance of sweet and sour that you would love. You can enjoy it neat, on the rocks, or with soda or other classic cocktails.
Is Smirnoff Pink Lemonade vodka sweet?
Smirnoff Pink Lemonade tastes so refreshing you would not want to stop drinking it. The taste is pleasantly sweet and tart of juicy lemon with a balance of strawberry and raspberry.
What is Smirnoff Pink Lemonade good to mix with?
Mix it with berries, lemon-lime soda, cranberry juice, pomegranate juice, seltzers, sparkling soda water, and more.
Also Read: Cutwater Tequila Lime Margarita Review
Cheers!
Smirnoff Pink Lemonade Vodka is a delicious flavored drink marketed by the Diageo Company. It is sippable and can be combined with other flavors for a refreshing cocktail.
You will love to have another taste of it as the sweet and tart flavor combination hits the taste bud. If you are wondering whether to pick a bottle or not, the answer is, you will love every sip.