Select Club Pelican is of Canadian origin, and the history of Canadian whisky dates back to the 1800s when rum was mixed with high wine, a whisky spirit made from grains. They help people relax their nerves or share fun moments with their family and friends.
Besides, most Canadian whiskies contain rye of a lighter blend with corn. They are the second in consumption worldwide after vodka. They are aged in oak casks for at least three years before bottling and importing.
This Select Club Pecan Praline Whisky Review takes a good look at the Whisky called Select Club Pecan Praline Whisky and why it is widely sort after the world over
Let's get into it!
Value for Price

Mixability

Sippability
⇒ Fun Facts ⇐
| Name: | Select Club Pecan Praline Whisky |
| --- | --- |
| Brand: | Select Club |
| Country: | Canada |
| Spirit Type: | Canadian Whisky |
| ABV: | 35% |
Brand History
Select Club Whisky, a brand of spirit crafted with meticulous attention, is family owned and operated. A company in Houston, Mextor, oversees its activities. The company seems not to distill the actual whisky but imports Canadian whisky and bottles it under the label 'Select Club.
This family-owned company widely distributes the spirit. There is not much going on in the company, as the owners needed to reveal more about the brand. However, they own other brands of Canadian whisky and sell under the same name, Select Club.
Keep reading to know more about this fabulous drink and why it is a must-have in your shelf.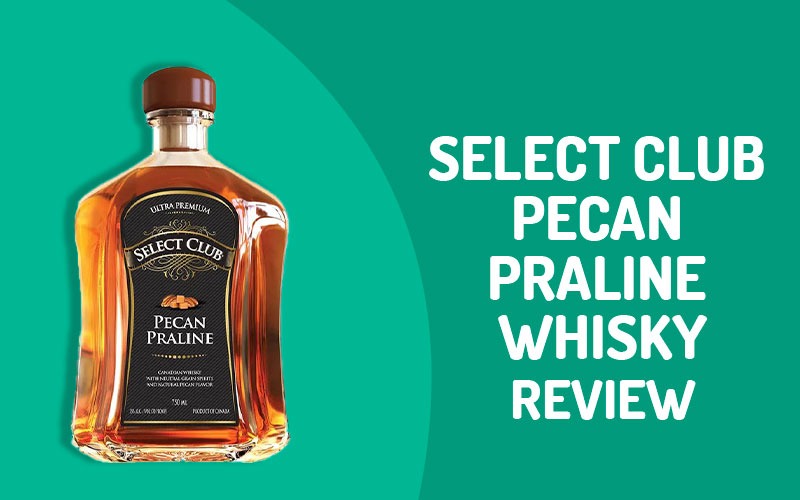 Select Club Pecan Praline Whisky Review
This finest North American whisky is made with a blend of corn and rye for the mashbill. It is then introduced to distilled water. After aging in American oak bourbon barrels, it assumes a smooth texture and amber color. Finally, it is bottled in a unique handcrafted bottle before setting out for the market.
Appearance: Select Club Pecan Praline Whisky is amber. It leaves a thick rim on the glass, showing a fat leg that sticks around.
Nose: It opens with the aroma of a pecan pie, nuttiness, and sweetness. You will pick more ethanol notes and other distinct fragrances when you raise the glass to sip.
Taste: It gives a beautiful creamy mouthfeel. Then, carries the buttery pecan pie and sweetness to the palate, with a woody taste that balances oak and nuttiness.
Finish: This drink ends in a medium, long note that is not overly sweet.
Alcohol content: Select Club Pecan is bottled at 35% alcohol by volume (70 proof).
Price: It comes at an inexpensive price tag of around $33 per 750 ml bottle.
Also Read: Chivas Regal 25 YR Review
Pros and Cons
Select Club Pecan Praline Whisky is an intriguing drink you may want to taste. It gives excellent flavors and comes in a unique decanter. You may choose not to go to the store with many expectations, but it does not change what this spirit truly represents. Here, let's give you a sneak peek into what you are about to purchase.
Pros
Flavored whisky: Only some people feel at home with flavored drinks, even though many good ones exist. Select Club Pecan is one of them. Drinking it with an open mind will enable you to discover the hidden treasure of this excellent drink.
Rich flavor: Select Club Pecan Praline tastes like pecan praline with boldly balanced flavors. The pecan aroma carries its flavor to the taste and through the finish, allowing you to crave another long sip.
Price: It is nicely priced for a flavored whisky. The quality is also outstanding, so you won't regret the few bucks you put down in exchange for it.
Nice campfire drink: If you are looking for a perfect drink to share with your friends, you can pick a bottle of this whisky from the store. It makes an excellent companion and conversation starter.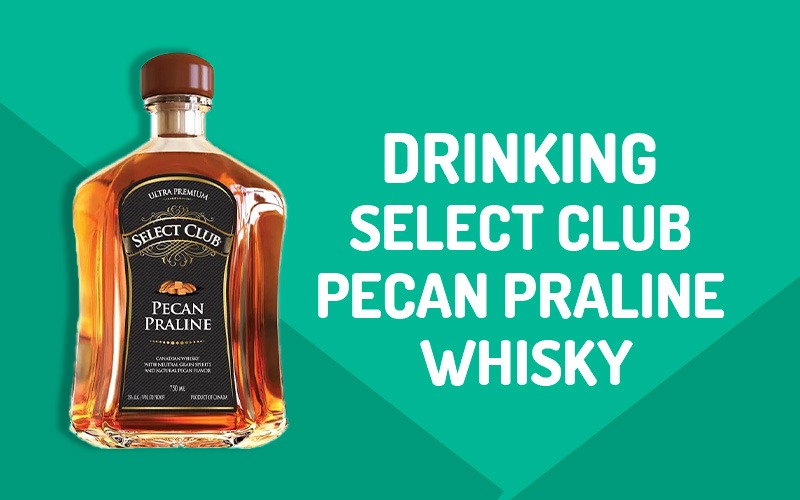 How Select Club Pecan Praline Whisky is Best Served
Like other premium-quality spirits, it is best enjoyed neat, over ice, or with your favorite cocktail. However, enjoying it chilled on a hot summer afternoon is priceless.
Neat: Pour the content of this excellent drink into a glass and sip it slowly if you want to enjoy it as it is. You can allow it to sit a while before sipping it to allow the flavors to settle well.
Over ice: Sipping it over ice is one of the most amazing things you can do to this spirit. Place a few pieces of ice in a glass and pour it over. Stir it a little and sip it intermittently.
In cocktails: You can make various cocktails with this drink, ranging from lemon to lime, orange, and other flavors. It easily pairs with other flavors, giving it an edge over some drinks of the same capacity. Each sip will open your taste buds to more welcoming flavors.
Perfect Pairings for Select Club Pecan Praline Whisky
This pecan praline hardly selects food and hits the spot when rightly paired. It is a good option for diverse foods and does not overpower them. Here they are:
Cheese: Although not every whisky pairs with cheese, it is a good option for this drink. It is not overwhelming, and goes with creamy cheeses like goat cheese, whether flavored or not.
Chocolate: Everyone has a favorite chocolate, but it does not mean it can go with your favorite whisky. If you are a fan of milk or dark and rich chocolate, you will enjoy them with this spirit. Their notes are great for each other on the palate.
Nuts: Sweeter nuts will go well with the sweet notes of this drink. Paired with Select Club Pecan Praline, heavily-roasted peanuts, and cashew nuts will also reward you with incredible tastes.
Fish and seafood: Each catch from the sea deserves incredible attention when looking for one to pair with Canadian whisky. They work better with the smoothness of this drink.
Fruit: You have endless options for fruit to pair with this succulent whisky. Citrus-based fruits are lovely. Others include pears, apples, berries, pineapple, and more.
Popular Related Drinks
Select Club has a range of award-winning whisky made with premium-quality ingredients. It means you have other options if you are not at home with this Pecan Praline. You could also buy them to complement this whisky if you are looking for varieties. Here, we will outline a few of them and why you should make them the next option:
Ultra Premium Select Club Pecan Praline Canadian Whiskey: Sold at $20, this Canadian whiskey is a unique blend of flavors. It is ultra-premium in every sense, with a pecan-forward oaky flavor. You can perfectly pair it with other flavors for a refreshing cocktail. Your favorite meal will also make great feasting with a glass of this spirit as a companion.
Select Club Pecan Praline Whisky and Cream: This is a sweet and flavored liqueur whisky. It is smooth and luscious on the palate, giving the exact amount of booze. It would be a good option for an old-fashioned cocktail and can go with chicken, steak, or pizza.
Select Club Southern Peaches Whisky and Cream: This is packaged in a bottle of mellow whisky with fresh and succulent peach and creamy flavor. It is a popular drink due to its peach flavor and offers the right amount of alcohol for a celebrity party. If you want a whisky to add to your fruit punch, you have this liqueur to make it memorable.
Select Club Southern Sea Salted Caramel and Vanilla Whisky: Everyone loves vanilla, and when you blend it with sea-salted caramel in a whisky base, you will have your palate to thank you. It is the newest masterpiece by Mextor, with almost everyone nodding to it. Whether you want to drink it neat, on the rocks, or mix it, it is a great companion to your evening or after-meal drink.
Also Read: 19 Crimes Cabernet Sauvignon Review
Frequently Asked Questions – Select Club Pecan Praline Whisky Review
Is pecan praline whiskey sweet?
It is a flavored drink with a blend of flavors that gives a smooth and long experience. You won't be able to resist taking another sip.
Where is Select Club pecan praline whiskey made?
Mextor, a family-run establishment in Houston, owns Select Club. They produce a range of other spirits, wines, and beers and distribute them around the country.
What proof is pecan praline whiskey?
It is 70 proof (35 ABV) and makes an enjoyable experience if taken in moderation.
Cheers!
Select Club Pecan Praline Whisky is a beautiful drink on the nose, palate, and pocket. Don't let the opportunity to showcase this wonderfully crafted Canadian whisky pass you. It is perfect for your next party with close friends and family. Why add it to your wish list when you can get it now at a reasonable rate?