One of the ways to share happy moments is by clinking glasses and toasting to long life. With a glass of bourbon, everyone can have fun and look forward to another exciting moment.
The origin of bourbon is not one of the confusing things we encounter. It is an American classic connected with jazz and blues from the heart of Kentucky. It is grown and brewed in the US, with diverse musicians, artists, and writers adopting it as their choice drink.
This article reviews the Stellum Bourbon, explaining everything there is to know about it and why you should share beautiful moments with beautiful friends and delicious drinks.
We begin!
Value for Price

Mixability

Sippability
⇒ Fun Facts ⇐
| Name: | Stellum Bourbon |
| --- | --- |
| Brand: | Stellum |
| Country: | United States |
| Spirit Type: | Bourbon |
| ABV: | 57.49% |
Brand History
Stellum Spirits was established in 2021 and was created in celebration of contemporary whiskey. Barrell Craft Spirits, popular for producing spirits and whiskey products, established Stellum as an extension of what they do. Aside from Stellum Bourbon (blended), the company launched other products in the same line, including Stellum Rye (blended), Stellum Single Barrel Rye, and Stellum Single Barrell Bourbon. They are all provided at cask strength.
While Stellum blends will not be batched products where every batch is unique, the Barrell Bourbon lines will be batched. These blends will always be in the market, including Stellum Bourbon. The founder, Joe Beatrice, focuses on adding a touch of modernity by balancing intuition and scientific techniques. For that reason, Stellum was not heavily branded.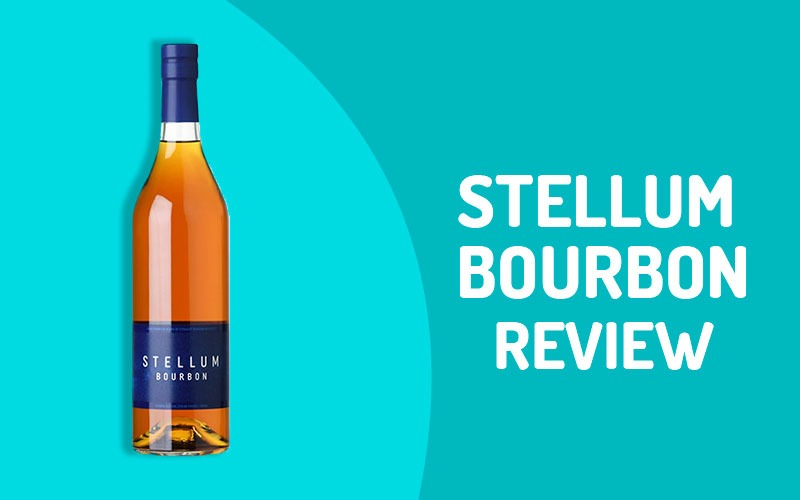 Stellum Bourbon Review
Stellum Bourbon is made from three Indiana bourbon mash bills – two high-rye and corn. Older barrels from Kentucky and Tennessee are slowly folded in using a multi-step blending process. With this, there are added layers of complexity and depth, resulting in a distinctly Stellum flavor profile. Consider the tasting notes below:
Category: Bourbon is an exceptional American whiskey made from corn, barrel-aged, and distilled. It is sweeter than other whiskey classes, with charred vanilla and spicy tastes. While each distillery has its distinct way of producing its bourbon, they must meet six standards, which are:
The bourbon must be created in the United States
It must be made with at least 51% corn, and the rest could be a blend of rye, malted barley, and wheat.
It must be aged in new charred American oak casks
Its distillation must not be more than 80% alcohol by volume (ABV)
Upon entering the barrels, it must not exceed 62.5% ABV
At bottling, the bourbon must be at least 40% ABV, which is the statutory whiskey standard.
Appearance: The content is amber gold
Nose: Upon opening the bottle, intense allspice and clove escape your nostrils, backed by light tobacco and creamy macadamia nuts. As the bourbon opens up, sweet fragrances of green apple, nectarine, and honeysuckle start coming up, balanced by oak and toasted rye.
Taste: This bourbon lands on the tip of the palate with hints of cotton candy, vanilla, and marshmallow. Black pepper, cinnamon baked apple, and cayenne pepper notes join the blend as it spread across the palate. The spicy flavor is followed by apricot and under-ripe blackberry notes, contrasting the initial sweetness.
Finish: the spiciness of the tongue carries over to the finish, but adds black pepper and candied ginger. Then, it gradually fades into a syrupy sweet honey.
If there is an addition of water, it will quench the strong pepper spice, while the sweet cinnamon streusel and stewed apples take the front seat on the palate.
Alcohol content: Proofed at 115, the alcohol content is 57.5%.
Price: The suggested retail price for Stellum Bourbon is $55.
Also Read: Castle and Key Bourbon Review
Pros and Cons
There is always something good to tell about this bourbon by those who have tasted it. But it may not always be true since several actors characterize everyone's experience. Let's check out the reasons you may or may not accept it:
Pros
Flavor complexity: Although we have pointed out several notes this bourbon rolls by with, there are more you can point out when sipping it. The variety of flavors that appear makes it fun and adventurous.
Bold: With its complex and bold cask strength, one would expect Stellum Bourbon to be overwhelming. Rather, it tastes rich, and the black pepper has little power over other flavors. You would want to return to it for a second sip.
Uniqueness: This bourbon is rare, with roots from Indiana, Tennessee, and Kentucky because they were distilled in these places. Its flavor profile is consistent with just the right number of dominant flavors. Even at 115 proof, it is sippable and full-flavored.
Cons
Expensive: Pegging Stellum Bourbon at $55 is outrageous for a new product yet to gain market trust. However, considering the high proof and general drinkability, paying any amount for it may be worth it.
Kentucky and Tennessee: nothing special about the presence of the KY and TN bourbon added to Stellum Bourbon. You will hardly identify with them if you know nothing about their presence.
How Best Is Stellum Bourbon Served?
Being the drink choice of notable American artists makes it a classic drink. It is American at heart and must be taken with elegance. If you are new to bourbon, saddle your ass and get your palate for a rich and oaky flavor.
Neat: Drinking bourbon neat is an old-fashioned way of getting this delicious liquid down your throat. Pour it into a shot glass, rock glass, or snifter and serve at room temperature without any additives.
With water: Another way to make your weekend memorable is by drinking your favorite bourbon with a splash of water. Ensure not to dilute it to avoid losing the taste. A few drops of water will help the notes to open up, allowing for a sweeter experience.
On the rocks: This is another common way of drinking this American whiskey. Using ice balls instead of regular ice cubes that melt easily is recommended. Enjoy the chilled effect you get, especially during summer outings.
In cocktails: Drinking spirits in cocktails is one of the fantastic ways to appreciate these drinks. They can well combine with other drinks to bring out more flavor notes. Cocktails are classy, flavorful, and refined, a fun way to try new flavor combinations. Try Stellum Bourbon and Coke or the Manhattan or Mint Julep for a perfect experience.
In addition, this bourbon can be used in cooking, baking, or grilling special delicacies and adding delicious flavors. Try it with bourbon chicken or bourbon-infused brown sugar glaze for a refreshing salmon dish.
Perfect Pairings for Stellum Bourbon
As an age-long American classic, bourbon pairs with major American staples and cuts across cuisines. We researched the best dishes that give your palate something to reminisce about when paired with Stellum Bourbon, and we came up with the following:
Fatty proteins: coat your palate with the fat of milk chocolate, cheese, and salmons, ham before sipping this bourbon. You will enjoy the incredible feeling it gives your taste buds. The fats and their flavors transform into something magical, leaving you wanting more. Don't try it with bitter chocolate; it will disappoint you. For the cheeses, go for the aged ones like parmesan, gouda, and cheddar. The mild blue ones perform wonders, too.
Desserts: whether you want cookies, candy bars, crème caramel, cheesecake, hummingbird cake, or even the cheapest, they work well with American whiskey. Their flavor combination may surprise you with each bite and sip.
Smoked meat: pairing smoked meats with this award-winning bourbon will give you a fantastic feeling. The smoked brisket is preferable; its smokiness mixes well with the flavor notes of Stellum Bourbon, and you can't say no to it.
Popular Related Drinks
If you are looking for an alternative or complementary bourbon to Stellum Bourbon, check out the options below:
Boundary Oak 82nd Airborne Bourbon Whiskey: This award-winning bourbon contains a mashbill of 75% corn, 21% rye, and 4% malted barley. It is aged at least two years and finely bottled at 100 proof. The bottle is a beauty to behold and can be added to your bourbon collections on the shelf for decoration. It also has a complex but balanced flavor profile that would please any bourbon connoisseur.
Sam Houston 15-Year-Old Bourbon: Aged for 15 years, this drink is unusually one of the best bourbons in the US. Although expensive, considering its lengthy aging process, it is worth the money. In addition, the lengthy maturing process adds some woodsy flavor while retaining smoothness and refinement.
Wilderness Trail Single Barrel Kentucky Straight Bourbon: this is made from a traditional mash bill of 64% corn, 24% rye, and 12% malted barley. It does not have much complex flavor, and the few presents are balanced and complemented by the appropriate amount of heat.
Frequently Asked Questions- Stellum Bourbon
What is Stellum bourbon?
Stellum Bourbon is created by combining three Indiana Bourbon mash bills and folding in older barrels from Kentucky and Tennessee through a multi-step blending.
Who makes Stellum Bourbon?
Stellum Bourbon is a brand created by Kentucky-based Barrell Craft Spirits. It is a blend of bourbons distilled and aged in Indiana, Kentucky, and Tennessee.
Also Read: Boundary Oak 82nd Airborne Bourbon Whiskey Review
Cheers!
One may think Stellum Bourbon might be a chip off the Barrell Bourbon line or come off as a lesser Bourbon. Instead, it stands on its strength, with a more balanced, nuanced, and full-bodied flavor. This bourbon is the non-aged, less-expensive, and more consistent version of the barrel batches that tend to vary. It ticks all the boxes with its attention-grabbing flavor profile, and that helps the company to reach a wider audience. It is appealing and highlights the strength to make a 'contemporary whiskey drinker' ask for more. As a note of finality, we recommend this bourbon to connoisseurs and inexperienced drinkers. If you love the Barrell lines, you will also appreciate this.